Home

/

Ridge Packaging (B2B Online Ordering)
Ridge Packaging (B2B Online Ordering)
Tasmania based Wholesaler Ridge Packaging, provides solutions to all your food packaging needs.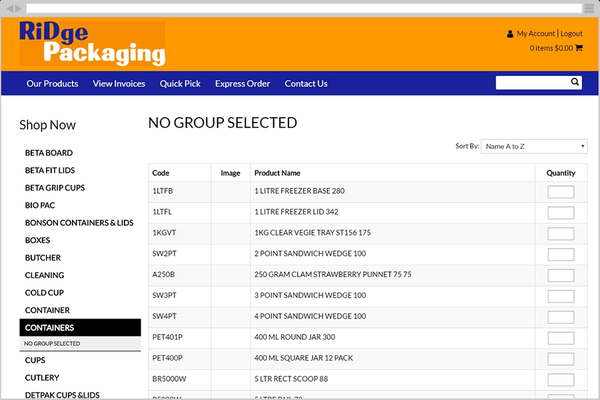 Ridge Packaging (B2B Online Ordering)
Ridge Packaging - Moonah, TAS based Ridge Packaging supplies all your catering and food packaging needs, including ridged takeaway coffee cups. Ricky and Jill Dodge and their son Simon are locals. They have been dealing with small businesses throughout Tasmania all their working lives. They run a family business. And they understand your business needs.
They recently added Web Ninja's Online Ordering solution to their business as a way to offer convenience and an easier option for ordering for their customers. With so customers ordering similar items over and over, 'repeat' orders, the 'quickpick', 'order templates' and 're-order' from a previous order features have been very popular and a welcome enhancement to Ridge's customer service experience.
With integration to their MYOB Exo system, Ridge are able to send product information, such as pricing, stock on hand, even product images automatically by ticking the 'show on web' tick box in Exo. Being an 'out of the box' solution, the Online Ordering implementation was quick and painless, with a colour/logo 'rinse through the portal, connection to Exo and products on the site all done within a week or so. This means Ridge's customers are able to take advantage of this new, easy to use at any time of the day process sooner.
Site Name: Ridge Packaging
Software: MYOB Exo
Location: Moonah, TAS